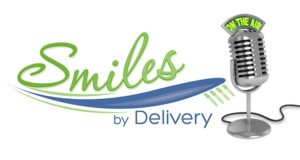 12425 W. Bell Rd.
Surprise, AZ  85378
www.smilesbydelivery.com
Innovation.  Technology.  Quality.  Compassion.  Convenience.
For Immediate Release
For more information contact:
Mike Kloberdanz
Marketing & Business Development Director
mike@smilesbydelivery.com
(623) 584-4746
House-call Dental Practice Announces Weekly Show on Dave Pratt's Network
Surprise, Arizona (September 18 , 2017) – Smiles by Delivery (SBD), a mobile dental practice based in Surprise, Arizona, announced this week that they have signed a deal to host a weekly show on Dave Pratt's Star Worldwide Network.  The show will be broadcast live from Pratt's Scottsdale studios every Tuesday at noon beginning on October 3rd.   It will also be available for downloading, podcasting, and other forms of on-demand listening.
Healthy Senior Living with Smiles by Delivery will be hosted by SBD's founder and CEO Elaine Mamola and Marketing Director Mike Kloberdanz.  The focus of the show is to explore all aspects of healthy senior living with a focus on healthcare.  Guests will include other leaders in the senior healthcare and housing world.
"We are honored and thrilled to be part of Dave Pratt's networks and have such a tremendous format to discuss senior issues," said co-host Kloberdanz.  "We work with seniors and with outstanding healthcare providers every day and the show gives us a place to meet and share knowledge and ideas with the public."
Pratt, a member Radio Hall of Fame and the founder and owner of Star Worldwide Networks, commented on choosing SBD to host the show: "Star Worldwide Networks loves to produce and to distribute shows that help people.  Smiles by Delivery is bringing caring and convenient dentistry into the new era.  Seniors, people without easy transportation, people with physical disabilities and others deserve top dental care in the comfort of their own homes and their own surroundings. Our network is very proud to offer Smiles by Delivery to the world!"
#          #         #
Smiles by Delivery is a house-call dental practice committed to helping elder care evolve through the use of innovative technology.