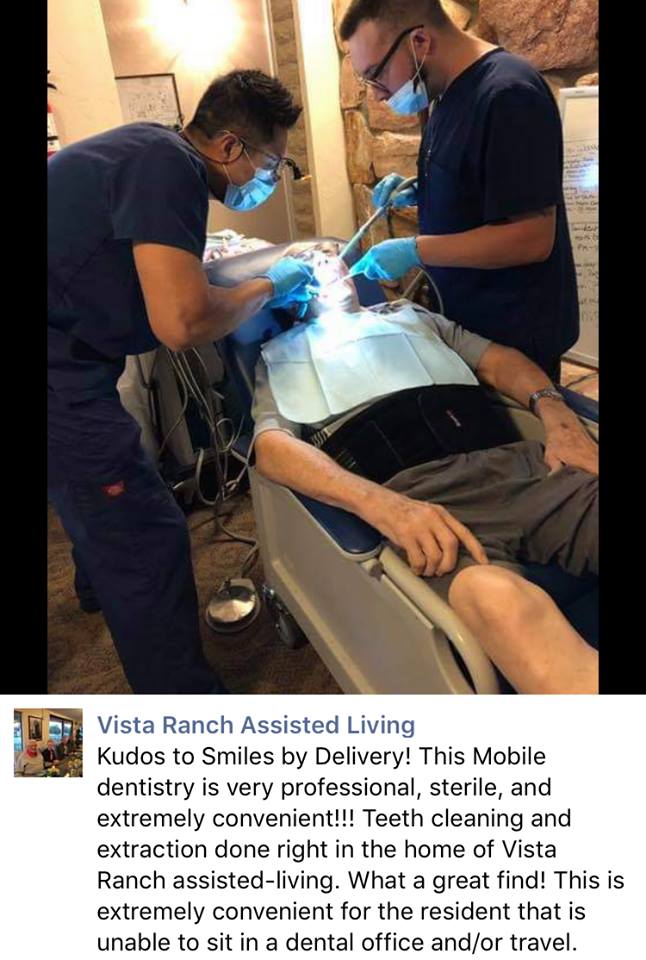 At Smiles by Delivery we have the opportunity each day to work alongside so many wonderful caregivers, communities and care home owners, service providers and placement professionals. We are so grateful for those who share their feedback so we may continue to enhance and improve our delivery model to serve our community better each day. We would like to take this opportunity to share with you a recent testimonial we received from a local care home owner.
"I was referred to Smiles by Delivery by a colleague. I had a resident who needed significant dental work. His wife was very concerned with having the work done with minimal pain for her husband; he also had mobility restraints. I called Smiles by Delivery, and their team performed amazing work with care and compassion to the resident and his wife. I am incredibly impressed, and so was the family of the patient. Smiles by Delivery is professional, sterile and all-around wonderful. Thank you so much to the entire team at Smiles by Delivery for truly making a difference for this gentleman. What a great find! Extremely convenient for any resident that is unable to sit in a dental office and travel."
~Kimberly, Assisted Living Care Home Owner
————————————————————
We hope you take the opportunity to choose Smiles by Delivery for your house call dental needs. Our goal is to provide compassion and kindness, coupled with the best dental options, for our care teams, our patients and their families.  
Many older adults can be challenged to travel to the dentist and are unaware of our house call dental care. We hope you will be an advocate for our services and help those in need of our services, find us!
Already received our services, please share your Smiles by Delivery experience by clicking the review buttons:


A recommendation from you will allow Smiles by Delivery to improve the oral health for Arizona's older adults!
#thinkprevention #smilesbydelivery #smiles #healthyseniorsmiles #healthyseniorliving #housecaldental #mobiledentistry