Dental Care for Private Care Homes
Proper dental care for patients in a private care home is critical to their overall health plan. Did you know that sixty-two percent of private care home residents have some form of unhealthy oral hygiene? We want to make sure that your care home is able to provide good and easy dental care to all of your residents. We know that poor oral health can increase overall healthcare costs with increased medical care trips and increase the risk of infections, diabetes, cardiovascular diseases, and even premature death. Smiles by Delivery is here to provide the best dental care services to your residents so that you don't have to worry about if they are getting proper dental care or even worse with them potentially increasing their medical health issues. We make is simple, convenient and give your residents the access to quality dental care.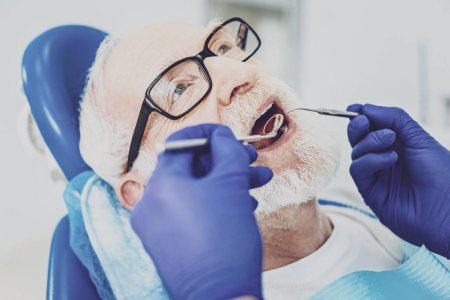 At Smiles by Delivery, we are here to help. Our experienced mobile dental team are dedicated to providing our seniors with access to quality dental care at an affordable price. We provide private care homes with an affordable subscription option to provide all of their residents with access to routine cleanings and more. The best part, we come to you! As a mobile dental provider, we bring all of our services right to your door. No need to worry about transporting residents to a free-standing clinic, that takes a significant amount of time and resources out of your day. Our services save the average private care home thousands of dollars a month in added healthcare expenses, staffing, and other patient care needs.
Oral Hygiene Is Important
The most common reasons we see poor oral hygiene in private care homes is the lack of time, resources, and basic oral care education for care providers. We also find that patients with Alzheimer's, dementia, and other advanced diseases are the most at risk for inadequate oral care. It can be difficult to treat patients that are resisting care, non-verbal, or possibly physical. At Smiles by Delivery, we have the experience you need to provide these patients with the proper dental care. With over a decade of experience, our assistants, hygienists, and dentists have learned how to overcome some of these challenges to provide the highest level of care possible to the patient.
We work with our private care home caregivers to not only care for their residents, but also educate the caregivers on how they can provide and encourage patients to participate in complete their own oral care. By working through motivational barriers, patients can receive optimal daily oral care and enjoy a much higher quality of life.
Simple, at Smiles by Delivery, our mobile dental vans are packed with the latest in dental technology and we have some of the best dental professionals in the business. You see, we specialize in treating our senior community. We've worked tirelessly to refine our processes, procedures, and most importantly, we work with our private homes to ensure that the process is as seamless as possible. With rates up to 30% lower than traditional dental practices, we've eliminated all barriers to providing access to quality dental care in Maricopa County.
For more information on how your carehome can enroll in the CareHome Advantage Plan, so your residents can benefit up to 2 cleanings per 12 months, give us a call today (623) 584-GRIN (4746).
Smiles by Delivery is a House-Call Dental Practice that is providing Complementary Dental Screenings! Call Today for Details on How to Register!
623-584-GRIN (4746)
Please let us know how we may
serve you and answer any questions
you may have!